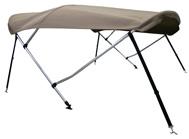 Bimini Tops (Universal)
Our very popular line of universal bimini tops is widely used by boaters, just like you, who don't want to compromise time on the water because of the sun. These durable, made-to-measure boat tops enhance the look of your boat while allowing maximum visibility, mobility and comfort.
Whether you have a fishing boat, runabout or cruiser, our universal bimini top line is perfect for the boater seeking shade from the blazing sun or protection from light rain.
From our entry level bimini tops to our high-end stainless steel bimini tops with sunbrella canvas, you are bound to find the one you need.
Each one of our bimini tops is manufactured with great care by our craftspeople, with only the finest materials because we feel strongly that high quality marine grade components and workmanship offer the best protection and value to our customers.
Look for same-day shipping on hundreds of popular colors.
Build-your-top is an easy-to-use tool that will guide you through a simple process, so you can build your own perfect fit universal bimini top and realize how big your savings will be with us!